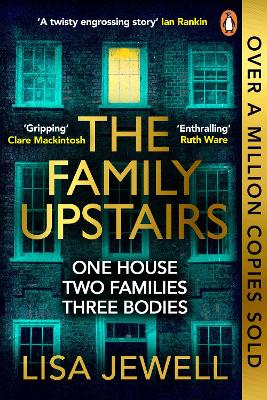 THE FAMILY UPSTAIRS
ΛΟΓΟΤΕΧΝΙΑ-ΑΣΤΥΝΟΜΙΚΗ ΛΟΓΟΤΕΧΝΙΑ, ΘΡΙΛΕΡ ΠΕΡΙΠΕΤΕΙΑΣ
RANDOM HOUSE
| Δεκέμβριος 2019 | 496 σελ.


Διαθέσιμο κατόπιν παραγγελίας
Αποστολή σε 2-3 μέρες
Επισκόπηση Βιβλίου
Really good, gripping. I couldnt bear for it to finish... I dont want to move onto the next book too soon as it feels like a betrayal. OLIVIA COLMAN I swear I didnt breathe the whole time I was reading it. Gripping, pacy, brilliantly twisty. CLARE MACKINTOSH A twisty and engrossing story of betrayal and redemption. IAN RANKIN ____________________________ FROM THE #1 BESTSELLING AUTHOR OF THEN SHE WAS GONE In a large house in Londons fashionable Chelsea, a baby is awake in her cot. Well-fed and cared for, she is happily waiting for someone to pick her up. In the kitchen lie three decomposing corpses. Close to them is a hastily scrawled note. Theyve been dead for several days. Who has been looking after the baby? And where did they go? Two entangled families. A house with the darkest of secrets. A compulsive new thriller from Lisa Jewell. ____________________________ Rich, dark and intricately twisted, this enthralling whodunnit mixes family saga with domestic noir to brilliantly chilling effect. RUTH WARE You dont read a Lisa Jewell book, you fall into it. It takes huge talent to establish a whole world in the turn of two pages. ERIN KELLY Creepy, intricate and utterly immersive: an excellent holiday read. GUARDIAN I had an unrelentingly pleasurable and thrilling for-Gods-sake-tell-me-what-happened sensation in my stomach for the entire read ... Stupendous! RUTH JONES Absolutely brilliant. Great characterisation, a fascinating and dark set up and a great conclusion. Shes always great but this is next level stuff. SARAH PINBOROUGH Few writers of psychological suspense devise such swift, slippery plots; fewer still people their stories with characters so human and complex. Lisas Jewells The Family Upstairs glitters like a blade and cuts even deeper. AJ FINN Whenever I pick up a Lisa Jewell novel I know Im in for a compelling, immersive and unputdownable read and The Family Upstairs is
ISBN
9781787461482
Πρώτη Έκδοση
Δεκέμβριος 2019
Δέσιμο
Διαστάσεις
198Χ129Χ
Βάρος(Kg)
0.250
Κατηγορίες
Γλώσσα
Εκδότης
Κατηγορία
Κριτικές Μελών
Γράψτε μια νέα κριτική...