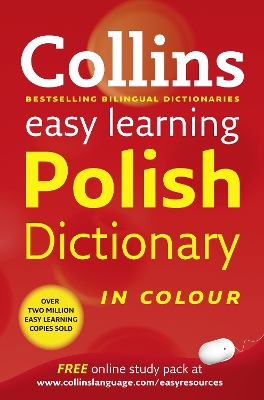 COLLINS EASY LEARNING : POLISH DICTIONARY 1ST ED PB
ΛΕΞΙΚΑ-
COLLINS
| Αυγουστος 2008 | 680 σελ.


Διαθέσιμο κατόπιν παραγγελίας

Επισκόπηση Βιβλίου
This new edition of Collins Easy Learning Polish Dictionary is up to date and easy to use - the ideal dictionary for learners of English and Polish. Collins Easy Learning Polish Dictionary is designed for anyone who is starting to learn Polish or English. The dictionary covers everyday language in both Polish and English, so you can be sure of having access to all the vocabulary you need. Have confidence: all translations underlined and thousands of examples show you how to use the translation in context, plus hundreds of helpful language notes. Get it right: supplement giving practical guidance on communicating in natural Polish and English. Get there fast: clear colour layout ensuring that you can find what you want quickly and easily. Other titles available in the Polish range are the Collins Compact Polish Dictionary and the Collins Polish Gem - giving learners all the help they need in language learning. Words are tools for life. And a Collins dictionary makes them work for you.
ISBN
9780007260836
Πρώτη Έκδοση
Αυγουστος 2008
Δέσιμο
Διαστάσεις
198Χ129Χ30
Βάρος(Kg)
0.620
Γλώσσα
Εκδότης
Κατηγορία
Κριτικές Μελών
Γράψτε μια νέα κριτική...