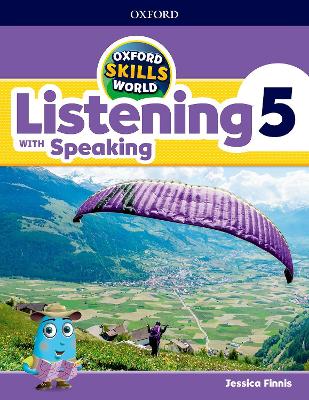 OXFORD SKILLS WORLD LISTENING SPEAKING 5 SB WB
ΕΚΠΑΙΔΕΥΤΙΚΑ ΒΙΒΛΙΑ-BEGINNER
OXFORD UNIVERSITY PRESS
| Φεβρουάριος 2019 | 120 σελ.


Διαθέσιμο κατόπιν παραγγελίας

Επισκόπηση Βιβλίου
Fun and adventure on every page! Did you know that you can write approximately 45,000 words with one pencil? Its true! And your primary learners will get to know facts like this because a Fun Fact appears in every topic. Why? Because they give learners talking points, and they get learners more involved in each topic. Fun Facts, illustrated Key Words and the friendly Molly and Olly characters are among the colourful features that make language skills fun for primary learners. Clear goals and lesson structures Every topic starts with a short My Goals list, and every topic follows a consistent order of activities - for example, Understand (the topic), Get Ready to Listen, and Listen. Places to record listening and speaking outcomes appear on the page, while the Think, Pair, Share activities develop the 21st-century skills: communication, collaboration, critical thinking, and creativity. Core activities such as Find the action words, Understand the sequence and Write an opinion focus clearly on the practical skills young learners need. Skills strategies for independent learning When students can see the progress they make, they get more from their learning. This is why can-do objectives and proof-of-learning activities appear throughout: to encourage learners, and to get them involved. The built-in strategies for independent learning boost autonomy and proficiency. Flexible material that fits ANY primary course Use Oxford Skills World alongside any primary curriculum or as a stand-alone skills curriculum. You can use the chapters in any order, making it easy to fit your teaching needs - it offers complete flexibility for skills teaching. The syllabus matches Oxfords key primary courses, which means you can use it with Family and Friends, Lets Go, Everybody Up, Incredible English, Ace, Starlight, Oxford Discover, Big Ideas, Big Bright Ideas, Big Questions, and English Time. Extra practice in the Workbook Workbook material is included at the back of the Studen
ISBN
9780194113427
Πρώτη Έκδοση
Φεβρουάριος 2019
Δέσιμο
Διαστάσεις
280Χ218Χ5
Βάρος(Kg)
0.250
Γλώσσα
Κατηγορία
Κριτικές Μελών
Γράψτε μια νέα κριτική...